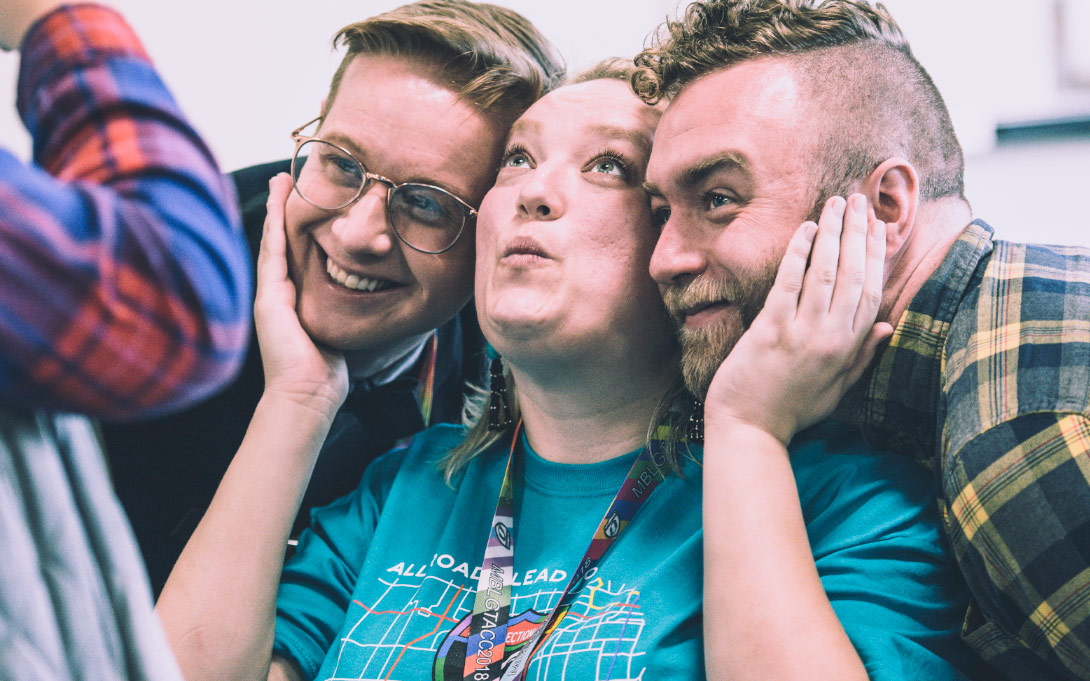 The Midwest Institute for Sexuality and Gender Diversity and the 2023 MBLGTACC planning team are pleased to announce the theme of the 32st annual Midwest Bisexual Lesbian Gay Transgender Asexual College Conference, "Queer Joy as Our Lasting Legacy."Publicly using a chosen name for the first time. Ripping down a poster promoting an anti-trans speaker. Snuggling up to housepets, propagating yet another plant, cooking a hearty meal for friends, binging a show with reasonable representation. These are all practices and rituals that prioritize queer and trans joy–and it is these practices that are the lifeforce of our communities.
We're all acutely aware of the devastating battles we are facing and there is plenty of need to continue planning, strategizing, and educating each other to elevate us as a collective force. Centering queer and trans joy is not a distraction from the tumultuous and alarming status of our world, but an intentional grounding in the pleasure, desire, laughter, intimacy and majesty that always ushers us through our hardest moments.
Positioning queer joy as our lasting legacy is a direct counter to the current status of our struggles, a proclamation that we choose to celebrate ourselves as a response to threats rather than surrender. Invoking this theme for MBLGTACC 2023 drives us to curate a space that feels like a collective sigh of relief, allowing us to set down our battle-gear for a few moments and be nurtured by the healing powers of queer joy and contribute to our lasting legacy.
Announcing workshop tracks
Workshop tracks will return for the second year, with focused content in the following areas:
Art, Media, and Design

Change on College Campuses

Historical and Contemporary Identities

Justice: Activism and Protest

Self and Community Care

Small Town Queerness

Advisor Track
A track is a curated series of workshops centered around a common theme or topic, and will aid attendees in choosing which workshops to attend based on their interests and aspirations.
Aspiring presenters are invited to attend "MBLGTACC 101: Proposing a Workshop," a virtual webinar hosted by conference planners and Institute volunteer staff. Read descriptions on our workshop tracks page.
Register for $100/person
Registration will also open on April 18. Tickets for will be available at $100 per person and includes a meal for the Saturday lunch and learn session. Register by October 3 to guarantee your accessibility accommodation(s), program booklet, swag, and lunch and learn meal ticket.